Pet Spa
At Clearview Pet Care Centre, we believe bathing and grooming are essential to a healthy pet. From shampoos, trims, pedicures, moisturizing and shed-less treatments, your pampered pet will go home looking great and feeling great! All dog breeds are welcomed in our facility. Pricing is according to size and breed of your pooch so call today to reserve your spot with one of our professional grooming stylists.
All of our dog styling services are available by daily appointment Monday through Friday 7am-6pm, or can be scheduled with lodging and daycare reservations.
---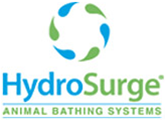 HydroSurge Bathing System
The superior bathing technology fuses water, shampoo, and air to create an action spray that penetrates an animals hair right down to the skin, which safely breaks up oils and removes dirt and dry, flaking skin.
The massaging action brings relief to animals suffering from arthritis, hip dysphasia, or other back, bone, or muscle problems, and stimulates blood flow.
---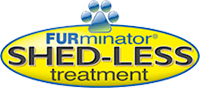 Shed-Less Treatments
Designed for both long and short-haired pets: The Shed-Less Treatment will make both long and short-haired pets look and feel better. Within one to two treatments, it has been proven to reduce shedding up to 90 percent.
Recommended by Doctors for people with allergies: Allergy sufferers may breathe easier after your pet has had the Shed-Less Treatment. Reducing the amount of pet hair in your environment also reduces the amount of dander and airborne elements that cause allergic reactions in many people.
Recommended by Veterinarians: The Shed-Less Treatment has been endorsed by Veterinarians who understand the importance of maintaining a happy and healthy pet. According to Veterinarians, the overall health of your pet is based, in part, on keeping your pet both clean and comfortable.